C3
Real Name
Celeste ?
Origin
Queens, NY
Rap Group
Boss Bitches
Leagues
Queen of the Ring
Real Job
"...fuck outta here, with your punk ass!"
C3 is a Queen of the Ring battler, and one of the foremost "dykes" battling in the league. She's most known for her ferocious ability to free-style, as well as her complex lyrical game. However, despite being a universally acknowledged top-tier QOTR rapper, and repeatedly getting top-tier slots on their cards (battling the likes of O'fficial, Tori Doe, and Ms. Miami, etc.), it is worth noting that almost all of C3's battles - especially those against much-hyped competition - are debatable (perhaps barring her QOTR:#NHB battle with Tori, which Tori edged). She has yet to "bodybag" a top-tier opponent. Despite this, she certainly has demonstrated that she's a threat, and her pen game is still above and beyond much of her competition.
Her QOTR:NBO battle with O'fficial was awarded "Best Female Battle of the Year" by PG Bloggers Battle Rap Awards. She writes for the Boss Bitches, an all-gay female group, and is very open and aggressive about her sexuality in her raps.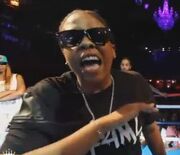 Opponent
League/Event
Date
E-Hart
Queen of the Ring/No Holds Barred 2
September 2015
Bonnie Godiva
Queen of the Ring/Panic Room 3
May 2015
Malato Black
R.B.E.
April 2015
Joe Cutter
Infamouz Battles
March

2015

Ah Di Boom
Deep Dellum & 858 Present: Doomsday
October 2014
Tori Doe
Queen of the Ring/#NoHoldsBarred
June 2014
Lotta Zay
Black Ice Cartel/The Eulogy
May 2014
O'fficial
QOTR:No Backing Out
March 2014
Star Smilez
QOTR
June 2013
Precyse
QOTR

March 2013

Ms. Miami
QOTR
January 2013
Jai Smoove
QOTR
November 2012
Gucci
QOTR
September 2012